About...
Edward Gildea
Edward is a dynamic facilitator and coach with extensive experience in educational consultancy. A former headteacher with 25 years' teaching experience, he has been a highly successful freelance educational consultant for 10 years, specialising in aspects of leadership, change and conflict management. He was a School Improvement Partner in Worcestershire and a senior education consultant for BSF, Academies and Free Schools for Cambridge Education. He runs courses and consultancy for ASCL, the Independent Schools Association, the Scottish Council of Indepedent Schools and CE, all clearly focussed on improving school effectiveness.
His book, 'Tackling Underperformance - strategies for managing challenging conversations' was published by Optimus Education in July 2012. http://www.optimus-education.com/shop/tackling-staff-underperformance-strategies-managing-challenging-conversations
His second book on Successful Middle Leadership was published by Optimus Education in October 2013. http://www.optimus-education.com/shop/successful-middle-leadership-introduction-essential-skills-and-responsibilities
Edward's key skills include:
The ability to create and develop effective teams, fully exploiting the expertise of each individual member and uniting them in a shared sense of purpose
Strategic vision and an ability to identify core issues and strategies for change combined with attention to detail to ensure excellent outcomes
Effective and charismatic communication and listening skills at all levels, from individual counselling to large audiences
Consultancy and facilitation skills with a strong problem solving and conflict management approach, supporting stakeholders through change and cultural shifts
Key professional roles:
Education Consultant on Building Schools for the Future
Headteacher with Inner city and Technology College experience
Consultant and facilitator for ASCL and Cambridge Education
Accredited School Improvement Partner (SIP)
Associate lecturer at the universities of Kingston and Derby
Teacher of English, Drama and English Literature
Publications on aspects of School Leadership with Optimus Education.
Leadership at sea
During 2014, Edward took part in the Clipper Round the World race. This unique, modern ocean yacht race started from London and Edward joined it in Brisbane, sailing approximately 25,000 miles home via Singapore, Qingdao, San Francisco, Panama, Jamaica, New York, Londonderry and Holland.
In 2018 he completed his circumnavigation by sailing a further 15,000 miles from Uruguay to Australia, experiencing storms and challenges in the S Atlantic, Southern and Indian oceans..
During both adventures he studied the intruiging links between team building, leadership and conflict management on board ocean racing yachts and in school leadership. Both roles pressured and challenging, while the sporting context often offered helpful metaphors and clarification to school contexts.
You can follow those blogs and join in the conversation by clicking on the Blog tab above and clicking the Leadership option.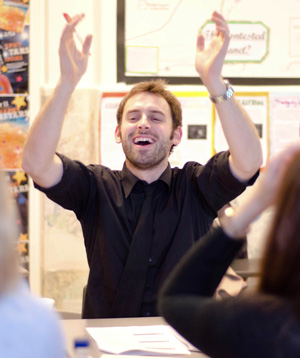 As a direct result of attending one of Edward's courses, I decided that accountability was an area I needed to develop in my school. I was enthused and went home to put together an accountability plan that night. I had also applied for a place on the NPQH and successfully used the coaching technique I had learnt on the course as part of the selection process; it worked superbly well! These ideas have developed the work that I do with aspiring middle leaders: courageous conversations and the ability to have them are what make the different between an adequate leader and an outstanding one. The focus of them in Edward's work is critical to school improvement.
Dr Jane Tinker - Assistant Principal, Sir Thomas Boughey High School, Staffs